TURNING OIL GREEN
A Market-Based Path to Renewables
Dan's most recent book, "Turning Oil Green", published in October 2020, has received excellent reviews by Kirkus Reviews and Amazon readers alike.
Dan Dicker, a lifetime observer and expert on energy markets examines the roadblocks to what should be an easy and 'natural' transition from oil and natural gas to solar, wind and other sustainable energy sources. In "Turning Oil Green", Dicker outlines the missteps from OPEC, energy companies, Wall Street, Washington and the environmental lobby that have turned the path towards renewable energy into a 'circular firing squad' where everyone, from consumers to investors to our planet itself have come away without the goals they seek.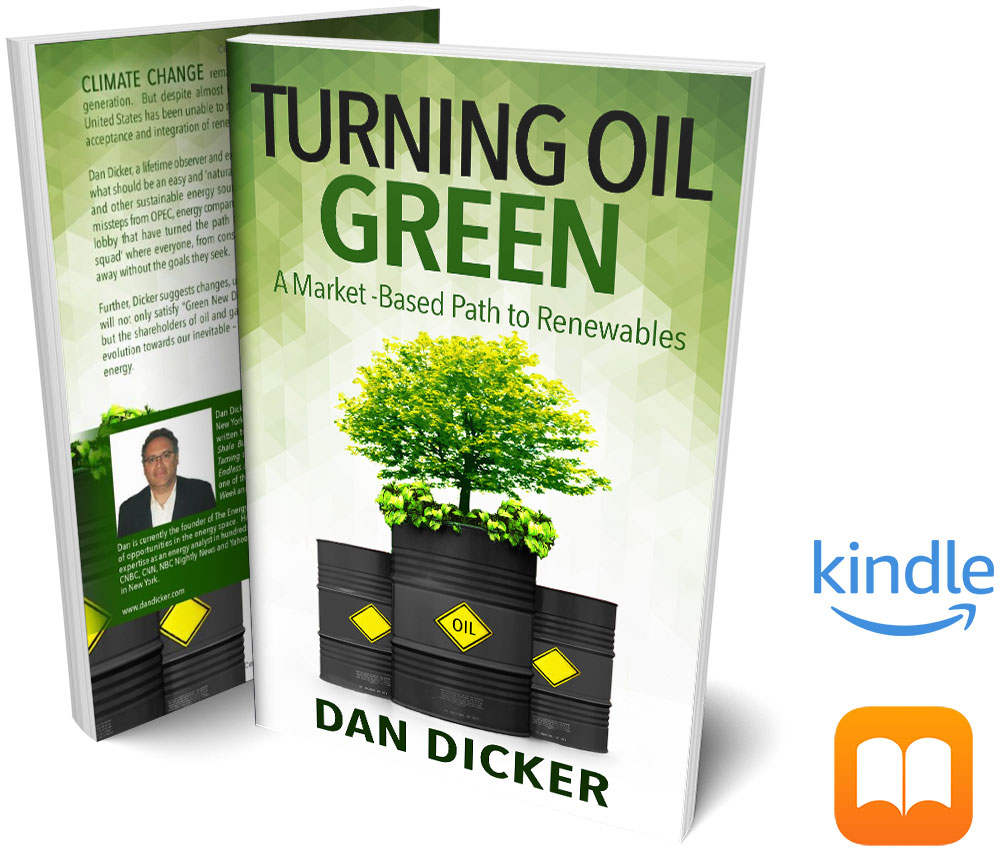 "A refined, contrarian argument about oil, both well researched and engaging."                — Kirkus Reviews
Shale Boom, Shale Bust
The Myth of Saudi America
"The promise of oil from shale to make the United States energy independent has crashed as oil prices have crashed. Dan Dicker explains what happened, why and what the oil sector and US energy policy should look like in the future."
Published in June 2015, Dan's most recent book has received excellent reviews by both Bloomberg BusinessWeek and readers alike.
"…a must read for anyone in America connected in any way, either as a passive investor or as an active operator, with the business of drilling and producing oil and gas."
Oil's Endless Bid
Taming the Unreliable Price of Oil to Secure Our Economy
"Expert analysis of oil prices and the out-of-control oil markets that jeopardize both national security and the economy. The price of oil is negatively impacting both companies and consumers."
Published in 2011, Dan's first book was named one of the year's Best Business Books by both Bloomberg BusinessWeek and Library Journal.
"…an insider's look at the world of New York floor traders and Texas oilmen; it entertains us with stories from the trading pits, putting us right in the thick of it."
LIKE DAN'S BOOKS? CHECK OUT

 

 "THE ENERGY WORD"